Thursday 20 February 2014 06.42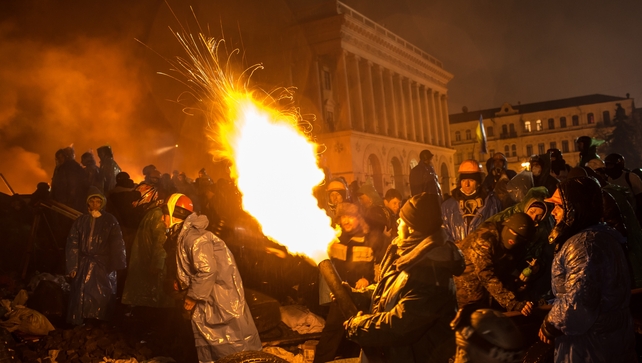 The protests began three months ago following the decision by President Yanukovych to reject a trade deal with the European Union
Foreign ministers from France, Germany and Poland are in the Ukrainian capital, Kiev, for talks on the upsurge in violence since Tuesday afternoon that has left 28 people dead.
Following the meeting they will travel to Brussels where they will report to other EU foreign ministers and discuss the possibility of imposing sanctions on Ukraine.
Ministers, including Tánaiste Eamon Gilmore, must decide whether imposing sanctions against Ukraine will help or hinder the delicate situation. 
Last night, President Viktor Yanukovych agreed to a truce with opposition leaders which paved the way for talks with opposition parties.
The protests began three months ago following the decision by President Yanukovych to reject a trade deal with the European Union and instead opt for closer ties with Russia.
The Obama administration has placed 20 top Ukrainian officials on a visa blacklist and is also considering imposing sanctions on Ukraine.
Speaking in Mexico this morning, President Obama said that while the truce in Ukraine may hold, ultimately there should be moves towards a unity government and elections.
Ukraine's health ministry has raised the death toll from the crisis-hit country's worst violence in its post-Soviet history to 28 from 26, adding that 287 people remained hospitalised.
The ministry said in a statement on its website that four children under the age of 18 and two foreign citizens were among those injured in unprecedented clashes that broke out on Tuesday night in the heart of Kiev between thousands of pro-EU protesters and hundreds of riot police.
It added that 88 law enforcement agents and one member of parliament were among those hurt.
The violence saw the Ukrainian government declare plans to impose a state of emergency.
President Viktor Yanukovych called a "truce" and proposed direct negotiations with the opposition after a meeting with three top anti-government lawmakers on Wednesday night.
TOP STORIES

RTÉ News – News Headlines