Friday 02 May 2014 08.58
1 of 3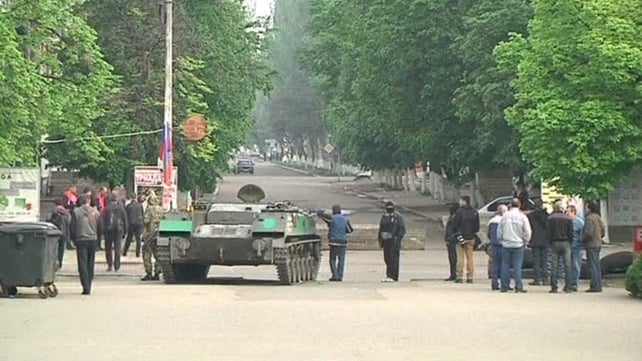 Pro-Russian rebels have set up a number of checkpoints on roads around Slaviansk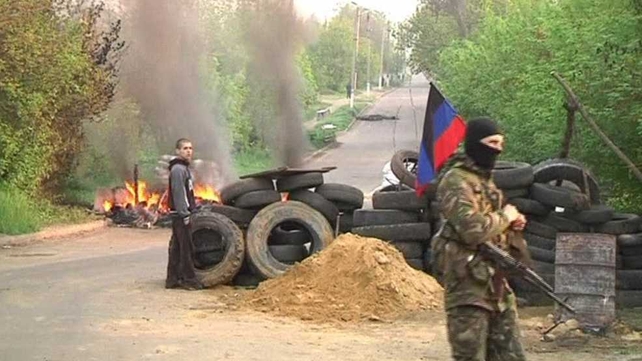 They set fire to one tyre barricade outside the town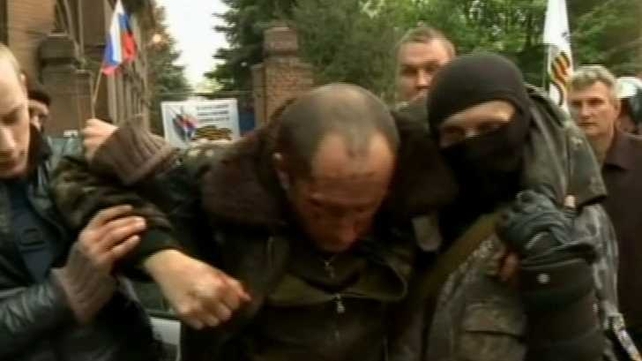 An injured Ukrainian pilot was taken to Slaviansk after his helicopter was shot down
Two Ukrainian servicemen have been killed after the military moved against pro-Russian rebels in the eastern town of Slaviansk.
The defence ministry confirmed that two army helicopters had been shot down in the operation.
Interior Minister Arsen Avakov said several other soldiers were wounded by rebels using anti-aircraft missiles.
Mr Avakov said: "Terrorists used heavy artillery, including grenade launchers and portable anti-aircraft missile launchers, against Ukraine's special forces."
Gunfire and heavy detonations were heard just outside the town this morning.
Militia groups have said the operation was part of "a full-scale attack" by the Ukrainian military.
Ukrainian soldiers have taken control of a rebel checkpoint just to the south of the town.
Eight armoured vehicles and several soldiers were seen taking positions there and warned off anybody trying to approach.
Sporadic small-arms fire was heard at a distance. Two explosions were also heard.
Slaviansk is relatively calm, but the town's church rang its bells to alert the population of 160,000.
The rebel leadership of the town has been warning for several days that the Ukrainian military was preparing an assault.
Ukraine is waging an offensive to try to contain the rebels, who continue to expand their grip across the east of the country.
Slaviansk is one of more than a dozen towns and cities pro-Russian gunmen have grabbed in the region since early last month.
Rebels in the town are holding 30 to 50 prisoners, according to Ukraine's interior ministry, including seven European inspectors with the Organisation for Security and Cooperation in Europe.
The Ukrainian government and the West believe the insurgency is being fomented by Russia, which in March used the same tactics ahead of its annexation of Crimea.
Russia denies it has any hand in the unrest in eastern Ukraine, but warns an escalation of the Ukrainian offensive could trigger "catastrophic consequences".
TOP STORIES

RTÉ News – News Headlines