Wednesday 04 June 2014 20.09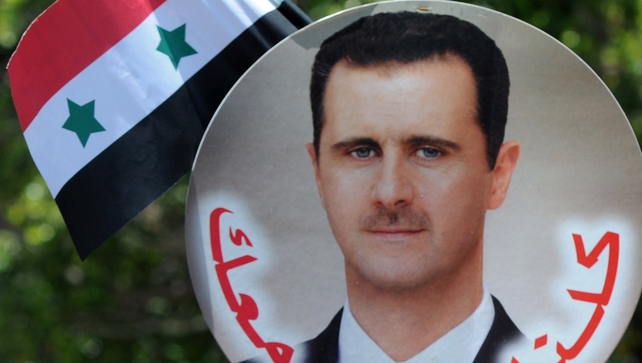 Bashar al-Assad secured a third term in office despite a raging civil war that grew out of protests against his rule
Bashar al-Assad won 88.7% of the vote in Syria's presidential election, parliament speaker Mohammad al-Laham has said.
He secured a third term in office despite a raging civil war that grew out of protests against his rule.
It comes as  a top UN official appealed to Syria to hand over urgently all remaining chemical agents after missing a deadline for their destruction, and urged Damascus' allies to intervene.
Under a UN-backed and US-Russia brokered deal agreed last year after the United States threatened air strikes against Syrian government targets, the weapons were to be destroyed by 30 June.
The deal was reached after a sarin nerve gas attack in a rebel-held Damascus suburb killed around 1,400 people.
But 7.2% of Syria's declared chemical agents, though packed, remain inside the country, Sigrid Kaag, the UN official overseeing the process, told reporters in New York.
UN chief Ban Ki-moon had already confirmed in a letter to the Security Council that the June deadline would not be met and Ms Kaag urged compliance as soon as possible.
She heads a joint mission by the United Nations and the Organization for the Prohibition of Chemical Weapons to disassemble the weapons.
Syria claims that the security situation is too dangerous on the ground for the agents to be transported safely by road to the port of Latakia.
Asked if Syria was stalling, Ms Kaag acknowledged security is a concern but warned: "It doesn't mean that additional delays can be incurred."
Danish and Norwegian ships are to take the chemicals from Latakia to a US ship for destruction at sea, as well as at sites in Finland, the US and Britain.
Western diplomats say the key question is how long the mission should continue. 
They also await the outcome of a separate fact-finding mission into the regime's alleged ongoing use of chlorine gas.
The OPCW mission was dispatched after France and the US alleged government forces may have unleashed industrial chemicals on a rebel-held village earlier this month.
Syria did not have to declare its stockpile of chlorine – a weak toxic agent – as part of the disarmament deal as it is widely used for commercial and domestic purposes.
The secretary general has said he wants the mission to work for a "finite period" after June 30 to eliminate the chemical agents.
Ms Kaag said the mission would focus on "residual activities."
TOP STORIES

RTÉ News – News Headlines