Updated: Monday, 16 Dec 2013 10:21 | Comments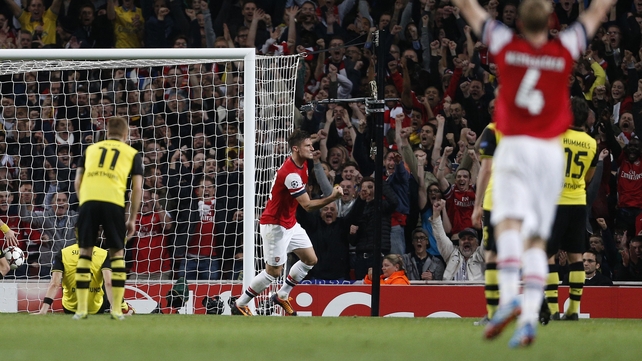 Arsenal were runners-up to Dortmund in their group
The price for Arsenal and Manchester City's failure to win their Champions League groups is a potential last-16 showdown with a true European heavyweight.
England's four Champions League sides will discover their last-16 opponents in today's draw at UEFA headquarters in Nyon.
One more goal in their 3-2 win at Bayern Munich in midweek, and City would have been toasting top spot in Group D and a more manageable draw.
Instead Manuel Pellegrini's men could line up against any of the Spanish trio of Real Madrid, Barcelona, or Atletico Madrid, last year's beaten finalists Borussia Dortmund or French champions Paris St Germain.
Arsenal face a much similar prospect, though cannot be drawn against Dortmund after sharing the same group.
The Emirates Stadium side could face title holders Bayern, Real or Atletico, PSG or Barcelona.
While City were left to rue one goal too few in midweek, the Gunners would have been eliminated had Napoli added a third in their 2-0 victory in Italy.
As it is, Arsene Wenger's men have reached the Champions League's knockout stages for the 14th consecutive season, but will have to do it the hard way to progress any further.
There are two seeding pots for the Champions League draw, with group winners and runners-up kept apart.
No team can play a club from their group or another side from their own country.
Arsenal defender Per Mertesacker remains unfazed by the prospect of facing one of Europe's elite though.
"We got Bayern Munich last year and nearly went through," he said.
"If you want to achieve something in the Champions League, you have to take every opponent seriously and I think it is better for us when we have a good lot, when there is a draw that we can concentrate on."
On paper group winners Manchester United and Chelsea should gain a more favourable draw.
But either side could face AC Milan, the only Italian side left in the competition.
United's other four potential opponents are Galatasaray, Olympiacos, Schalke and Zenit St Petersburg.
Chelsea cannot face Schalke after being drawn together in Group E, so they could take on Bayer Leverkusen, in the only change from the permutations facing United.
Tottenham and Swansea will also learn their Europa League fate, for both the round of 32 and last 16.
The 12 group winners and four best third-ranked teams dropping down from the Champions League will make up one half of the draw.
In the other seeding pot will be the 12 group runners-up and the remaining third-placed Champions League sides.
The last-16 draw will be made immediately afterwards, and will be completely open.
Among Group K winners Tottenham's 14 potential opponents are big names Lazio, Ajax, Juventus and Porto; so Andre Villas-Boas' sides 100 per cent tournament record could be severely tested.
The draw could be fairly daunting for Group A runners-up Swansea, with Michael Laudrup's side able to face any of Napoli, Benfica, Shakhtar Donetsk and Basle dropping down from the Champions League.
Swansea could also draw the likes of Fiorentina, Sevilla and Lyon.
Watch the Champions League draw live on RTE.ie and RTÉ News Now from 10.55am.
User contributions and/or comments do not, unless specifically stated, represent the views of RTÉ.ie or RT&Eacute.
Click here for Terms of use

RTÉ Sport sport headlines