1

of 3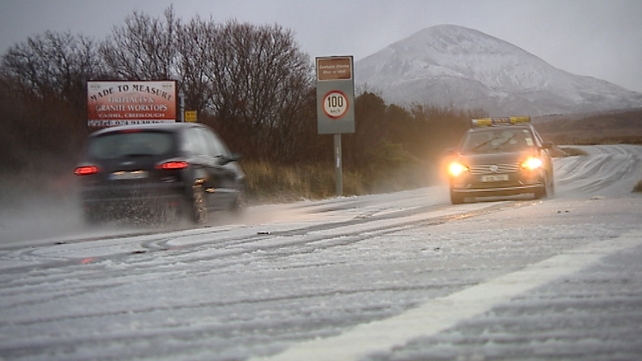 Poor road conditions this morning in northwest Donegal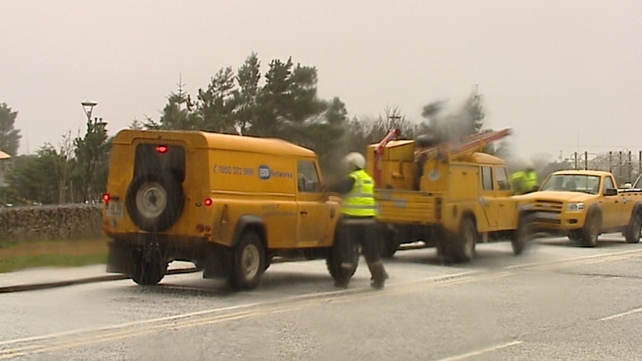 ESB Networks are hoping to restore power to homes today
Large waves in west Kerry (Pic: Seán Mac an tSíthigh)
ESB Networks says around 17,500 homes are without power this afternoon in the northwest of the country due to a lightning storm.
The areas worst affected are north Mayo and west Galway.  
Earlier, a spokesperson for ESB Networks said it was hoping to restore power today to about 4,000 homes due to stormy weather conditions and severe lightning. 
Repair crews are also working to restore power to homes on the Aran island of Inis Mór after power outages were reported over the past 24 hours.
Met Éireann has said an Orange wind warning is still in place and the weather will remain blustery. 
However, it expects that there will be a gradual moderation through the afternoon and evening and conditions will improve later. 
Irish Ferries has cancelled fast ferry sailings today due to the stormy weather and passengers will now be accommodated on conventional crafts. 
The Irish ferry service between Rosslare and Pembroke has also been cancelled.
Aer Lingus says all passengers who were affected by three flights cancelled yesterday due to bad weather will be accommodated today.
One flight from Heathrow to Shannon was cancelled due to high winds. The airline says a bigger plane will be flying out of Heathrow Airport today.
A second flight which departed Cork for Heathrow yesterday evening had to return to Cork Airport because it could not land at Heathrow due to high winds.
It is understood it got within 15 metres of Heathrow Aiport when it was told it had to turn back.
Aer Lingus says there will be an additional flight from Cork to Heathrow today.
The airline says passengers who were due to return on the Cork-bound flight from Heathrow yesterday will also be accommodated on the return additional flight.
It says it has seats for all passengers affected.
All flights to and from Shannon Airport are operating. However, the airport is asking passengers to check with their airline's website for more details. 
A spokesperson said Shannon Airport had handled four Dublin-bound diverted flights from Glasgow, Bristol, Southend and Lanzarote due to weather conditions at Dublin. 
The passengers are being transported back to Dublin by bus. 
Buses and trains are running to schedule.

RTÉ News – News Headlines