Friday 28 February 2014 07.34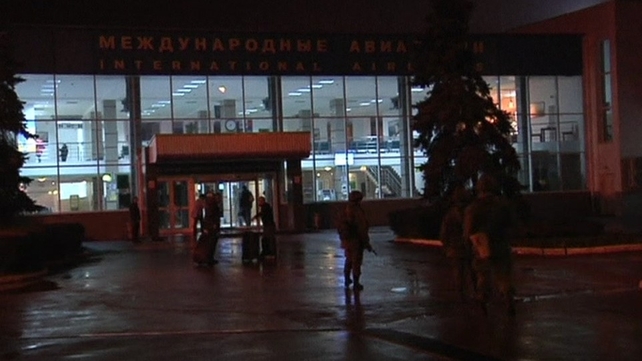 The armed men are allowing the airports to function normally
Ukraine's interior minister has said Russian forces have taken control of two airports in the Crimea region.
Arsen Avakov condemned the events as an armed invasion and occupation.
He said there had been no bloodshed or clashes when armed men he described as Russian naval forces took over a military airport near the port of Sevastopol. 
The Russian Black Sea fleet has a base in the city.
Mr Avakov said armed men representing Russia had taken over Simferopol international airport without clashes.
"I consider what has happened to be an armed invasion and occupation in violation of all international agreements and norms," Mr Avakov said on his Facebook page.
He described it as an armed provocation and called for talks.
The men have not moved into the passenger terminal and appear to be allowing the airport to function normally.
Reuters reported that the men, dressed in full battle gear and carrying assault rifles and machine guns, were moving freely in and out of the control tower.
It quoted one man as saying: "We are here to ensure general order. We don't want radicals coming on planes from Kiev.
"It was our initiative in order to stop the fire from spreading into Crimea. That's why we don't want radicalism to come here. We don't want facism in Crimea. We want peace here."
The events came a day after armed men stormed the regional parliament building and raised a Russian flag.
Meanwhile, Russian President Vladimir Putin has ordered his government to continue talks with Ukraine on economic and trade relations and to consult foreign partners, including the IMF and the G8, on financial aid.
Mr Putin has also ordered his government to consider a request from Crimea for humanitarian aid.
TOP STORIES

RTÉ News – News Headlines