Thursday 06 February 2014 12.15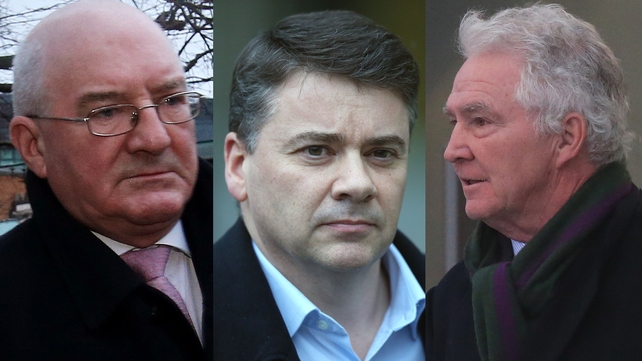 William McAteer, Pat Whelan and Seán FitzPartick have pleaded not guilty
The trial is continuing for a second day at the Dublin Circuit Criminal Court of a former chairman of Anglo Irish Bank and two former Anglo executives.
They are charged with providing unlawful financial assistance to 16 people to buy shares in the bank.
Seán FitzPatrick, 65, from Greystones in Co Wicklow, 51-year-old Patrick Whelan of Malahide in Dublin and 63-year-old William McAteer of Rathgar in Dublin have pleaded not guilty to the charges.
Mr Whelan has also denied seven charges of being privy to the fraudulent alteration of a loan facility letter
The jury has been shown a graph illustrating the declining share price of Anglo Irish Bank from January 2008 to December 2008, when share prices fell from over €10 to 17c.
The previous year the share price had been at €15 at the beginning of the year.
Former company secretary Natasha Mercer told the court there would normally be up to ten scheduled board meetings a year.
In 2008 there were 33 board meetings, including three on one day in September.
She said decisions were taken by the board or by committees acting with the approval of the board.
Ms Mercer said she would consult with CEO David Drumm and chairman Seán FitzPatrick in advance of board meetings.
She agreed during cross examination that Mr FitzPatrick was a non-executive director on the board of Anglo and that his "career ended" in 2004.
She also said she was aware that he was also a non-executive director of a large number of other companies.
Ms Mercer said she was aware that concern about Seán Quinn's stake in Anglo through contracts for difference was discussed at numerous board meetings towards the end of 2007.
TOP STORIES

RTÉ News – News Headlines