Tuesday 29 April 2014 11.21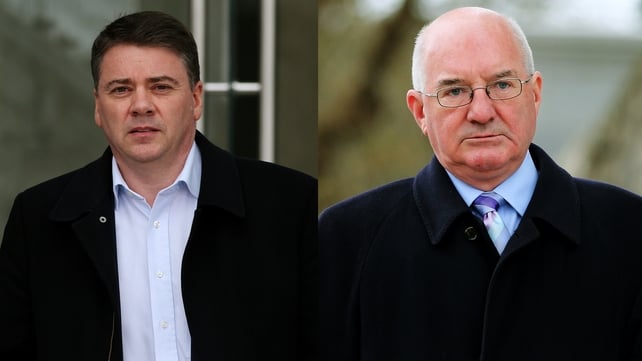 Pat Whelan and William McAteer were found guilty almost two weeks ago
The sentencing hearing for two former executives of Anglo Irish Bank has resumed at the Dublin Circuit Criminal Court.
Anglo's former director of lending in Ireland, Patrick Whelan, and the bank's former finance director, William McAteer, were convicted almost two weeks ago.
They were found guilty of ten counts of giving unlawful loans to ten developers to buy shares in the bank, in breach of Section 60 of the Companies Act.
Superintendent Eamon Keogh, who was in charge of the "lengthy and complex" investigation into the offences, has begun outlining the facts of the case to the court.
Judge Martin Nolan will then hear submissions from lawyers from each of the two convicted men, before considering his sentence.
The maximum sentence for offences under Section 60 is five years in prison and/or a fine of more than €6,000.
Mr Whelan, 52, from Malahide in Co Dublin, and Mr McAteer, 63, from Rathgar in Co Dublin, were acquitted of six counts of giving unlawful loans to members of businessman Seán Quinn's family.
The bank's former chairman, Seán FitzPatrick, was acquitted of all 16 counts against him.
TOP STORIES

RTÉ News – Business Headlines