Friday 11 April 2014 12.29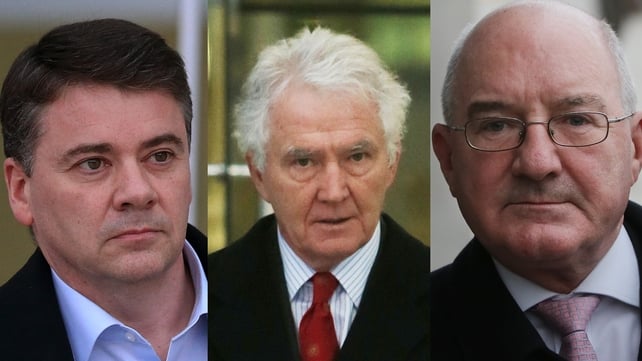 Patrick Whelan, Seán FitzPatrick and William McAteer deny all charges against them
Lawyers for Seán FitzPatrick have told the Circuit Criminal Court that everyone was "gloriously happy" that the transaction at the centre of the Anglo trial had been done, until the climate changed.
Senior Counsel Michael O'Higgins was continuing his closing speech to the jury in the trial.
Mr FitzPatrick, the bank's former chairman, as well as two former directors of the bank, Patrick Whelan and William McAteer, deny giving illegal loans to ten customers of the bank to buy shares in Anglo in July 2008.
Mr Whelan and Mr McAteer also deny giving illegal loans to six members of Seán Quinn's family.
Mr O'Higgins told the jury that history had been rewritten in this case.
He said everyone had been gloriously happy after the transaction, until the climate changed.
He said it was like 1916 in reverse. He said when the lads were taken out of the GPO they were treated risibly by the people of Dublin, but when they were executed they were heroes.
Mr O'Higgins said everyone had been relieved and happy and did not have a problem with this transaction, but in the light of subsequent events and in the light of viciousness and unfocused anger, it began to be looked at in a different light and the ground started to shift.
Mr O'Higgins said he acknowledged it was not a great time to be on trial as a banker.
He said a banker might ask if they would get a fair trial.
But he said his answer would be yes, because the jury system had been tried and tested over centuries and Irish juries had an impeccable reputation.
He told the jury it must try the case and give its verdict according to the evidence and just the evidence.
Mr O'Higgins said there should be a natural tension between bankers and their customers, but for a time everyone had become friends.
He said the old regime had now been reinstated and we all hated our bank managers again.
He criticised the prosecution for "casually criminalising" the Financial Regulator by suggesting the regulator could have been charged in relation to this transaction.
Mr O'Higgins told the jury this was a very difficult case to determine and he did not underestimate the task it faced.
He asked it to give the arguments on behalf of Mr FitzPatrick its full consideration and said Mr FitzPatrick could not expect anything less.
TOP STORIES

RTÉ News – News Headlines