Updated: Thursday, 06 Feb 2014 18:41 | Comments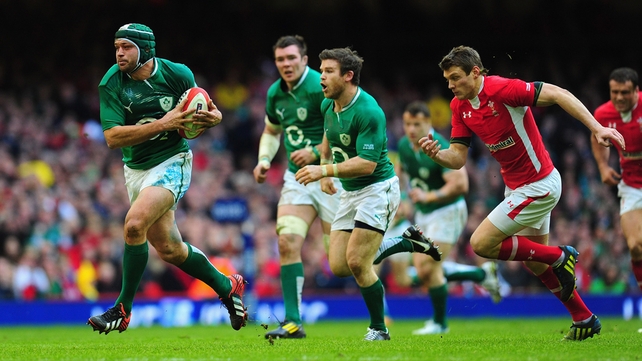 Ireland need to be "very direct, play flat on the gainline in attack and have relentless aggression at every collision point."
By Bernard Jackman
The fact that Rob Penney and Munster have been unable to agree a new deal despite a very impressive rebuilding job over the last year-and-a-half, shows how nothing can be taken for granted in the modern game.
The Penney news came as a bit of a shock but I suppose the fact that it had not been tied down sooner should have set alarm bells ringing.
Apparently, he will take a three-year contract to coach in Japan rather than the one-year extension that was on offer with Munster.
In a way, it is not that surprising. Canterbury, where Rob coached and played for most of his career before his stint with Munster, has strong links with Japanese rugby. The financial packages available there, the proximity to home, and the shorter rugby season in Japan have always made the land of the rising sun attractive to Kiwi rugby people.
He leaves Munster in rude health and it is a position that will attract applications from all over the world. Personally, I feel that Anthony Foley has served his apprenticeship and deserves a crack at it.
In contrast, the reintroduction of Gordon D'Arcy and Paul O'Connell to the Irish team against Wales is comforting.
Wales have been incredible under Warren Gatland in recent years. Their players seem to grow three inches taller and play 10 kilos heavier in the Welsh jersey.
But the strength of this Irish team selection, and the fact that there is potential for more improvement from the Scotland match, gives me confidence that we will beat Wales and put ourselves in the mix for the RBS 6 Nations Championship title.
Ireland can improve from Scotland performance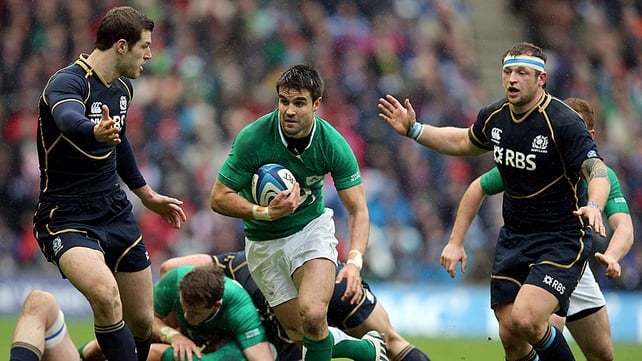 Looking more closely at that performance against Scotland, I felt Ireland were professional and efficient but that Joe Schmidt will be frustrated with the unforced errors that were made.
Ireland were particularly vulnerable at rucks in the wider channels. Schmidt gives his players the license to play with width, but with that comes a responsibility to retain possession. It will have been a big focus this week as ruck security is particularly important against Wales, who counter-ruck very aggressively and are good at taking turnover opportunities.
In terms of looking for a Welsh weakness, the Welsh scrum was poor against the Italians while Ireland were not given the penalties they probably deserved in the same battle against the Scots. We must really go after the Welsh in this area. I also believe that we must put extra pressure on Rhys Priestland at out-half, as he was not impressive against the Italians having come out on top in a selection battle with Dan Biggar.
The Irish players will have learned a lot about the Welsh philosophy on tour in Australia.
It is a simple approach in attack, where they play the same way until reaching the far touchline and then turn around and come back again. One advantage of this approach is that it tends to force penalties. Wales have one of the world's best kickers in Leigh Halfpenny. Good decisions and discipline are key for Ireland.
Wales also have a hugely physical backline with several players who are as big as forwards. They will send the big men down the 10/12 channel all day, and also have the likes of Richard Hibbard to carry around the ruck. Ireland need to win that first collision as it will make defending the next Welsh phases much easier.
How should they go about it?
Tackle and ruck decisions key against Wales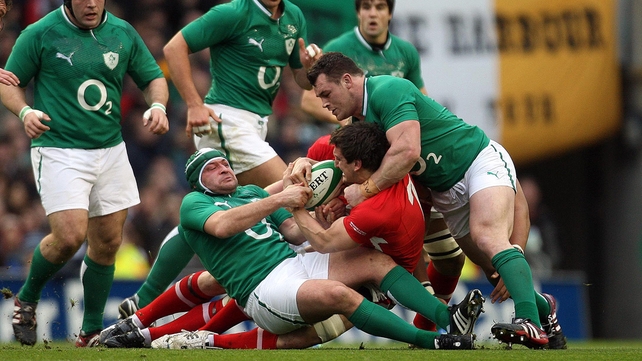 It is very hard to choke tackle against physically bigger men so I expect a lot of low (chop) tackles with the outside defender varying between not contesting and creating a longer defensive line or barging through the ruck to disrupt the quality of the Welsh ball.
In terms of executing that strategy, the return of Gordon D'Arcy is huge. He has a brilliant understanding with Jonathan Sexton and Brian O'Driscoll. Good decision making and solidity is key, as getting over the gain line on first phase strikes is such a huge part of the Welsh game plan.
If Ireland do that, the focus will turn to Mike Phillips. He is a class act and if he is allowed the time and space to dictate the play, Ireland will be in trouble. Phillips is coming off a poor Lions Tour and a very average Top 14 season during which he was sacked by Bayonne. Our pack need to get to him and make his afternoon a difficult one.
Turning to Ireland's attack, this week I looked back at the away match against Wales in last season's first game. The brilliant O'Driscoll pass for Simon Zebo's try, and Zebo's heel-flick were the headline grabbers but the overall Ireland gameplan was effective and I expect them to play it similarly this Saturday.
In Cardiff Ireland were very direct, played flat on the gainline in attack and had relentless aggression at every collision point.
It would be no surprise to see more of the same on Saturday.
Sexton and Murray can be match winners
There are other factors in play, like Ireland having one day less preparation time. I do not think it is that important as all our players are used to it from their provinces. Ireland also have the luxury of being at home for the second week in a row and that should make up for the loss of a day's recovery time.
Staying with that lost preparation, Ireland used the first week of camp to have a look at the Welsh, and that should also pay off. It shows how confident they were that they would beat Scotland and see Wales as being the pivotal match of this competition.
Wales have fatigue issues of their own having dominated the Lions Test side, and looked flat against Italy.
It will be tight as these two teams are very well matched.
It may come down to a one or two individuals performing well. On that front, Conor Murray and Sexton are two players in better form than their direct opponents.
They may just turn out to be our match winners.
User contributions and/or comments do not, unless specifically stated, represent the views of RTÉ.ie or RT&Eacute.
Click here for Terms of use

RTÉ Sport sport headlines