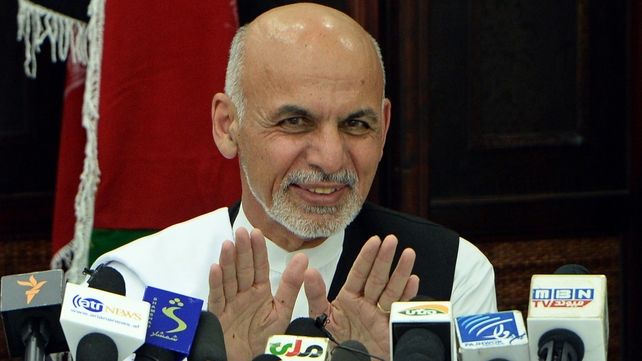 Under the terms Mr Ghani will share power with a chief executive proposed by Mr Abdullah
Former finance minister Ashraf Ghani has been named Afghanistan's president-elect.
He signed a deal to share power with his opponent, ending months of turmoil.
The turmoil arose after a disputed election that destabilised the nation as most foreign troops prepare to leave.
              
The announcement withheld the final election numbers, apparently as part of the political deal between Mr Ghani and rival Abdullah Abdullah.
Mr Abdullah is a former foreign minister who claimed the process was rigged against him.
        
Under the terms of the unity government deal signed today Mr Ghani will share power with a chief executive proposed by Mr Abdullah.
The two will share control over who leads key institutions such as the Afghan army and other executive decisions.
              
The new administration faces huge challenges in fighting an emboldened Taliban-led insurgency and paying its bills amid plummeting tax revenue.
              
It will also face significant difficulty in improving the lives of Afghans as aid flows fall and as contracts with the NATO-led coalition dry up as most foreign troops leave by the end of the year.
The accord signed was the finalisation of a broader power-sharing structure brokered by US Secretary of State John Kerry, who swiftly welcomed its signing.
              
One of Mr Ghani's first acts would be to sign a long-delayed bilateral security agreement with the United States.
He has previously declared support for the pact to allow a small force of foreign troops to remain in Afghanistan after 2014.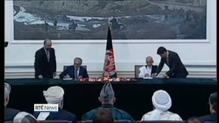 RELATED AUDIO & VIDEO

RTÉ News – News Headlines