Friday 28 March 2014 17.06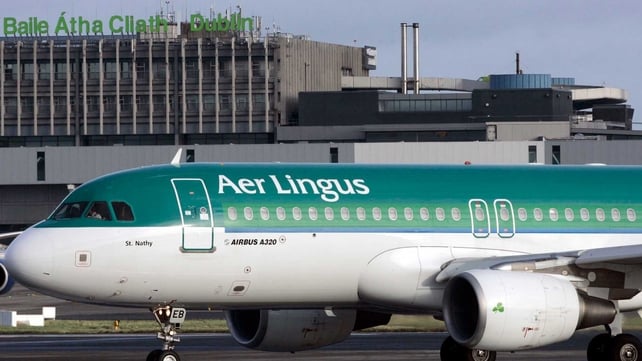 CEO said progress in reducing costs was slowed by pension dispute
Aer Lingus is to seek further savings totalling €30 million under a new round of cost reduction measures including job cuts and increased productivity.
The new plan entitled Cost Optimisation and Revenue Excellence is outlined in the airline's 2013 annual report published today, and is due to commence implementation on 1 April.
Meanwhile, the airline has decided that it will only pay around a quarter of a gain-sharing payment due to non-executive staff for meeting profitability targets until the long-running dispute over the pension deficit is resolved.
In the report, Chief Executive Officer Christoph Mueller says that progress in reducing costs was inhibited last year by the inability to resolve the long-running dispute over the deficit in the pension scheme.
However, he says they cannot afford any further delays and must press ahead to take advantage of the "opportunities to address the challenges" facing the airline.
The two-year programme, which has already been flagged to staff within the airline, has three elements.
The cost and "business optimisation" element will include further headcount reductions and increased productivity by the end of 2015.
Under the title "Revenue Excellence" Aer Lingus aims to develop its merchandising and retail product, and improve functions including mobile apps and its booking portal.
It will also be moving to Terminal 2 at Heathrow Airport in London in July 2014, which it claims will improve passenger experience.
Mr Mueller acknowledged that it had taken longer than anticipated to resolve the "legacy issues" of the Ryanair stake in the airline and the row over the pension fund deficit.
He said this was a factor in the decision not to pay the full gain-sharing payment of around €1,000 payable to each of 3,700 employees.
He acknowledged that profitability targets had been met, and that ordinarily €6.25m would have been payable to 3,700 employees.
However, he said the remuneration committee was exercising its discretion not to pay the full amount because the pension dispute had not yet been resolved, and because an ongoing pilot pay review could affect the gain-sharing payments. 
Instead staff will receive in interim payment of €250 "on account".
Unions angry over CEO's €1.5m pay package
Meanwhile, the union representing Aer Lingus pilots and cabin crew has described the €1.5 million pay package for Mr Mueller as insulting and unsustainable.
IMPACT national secretary Matt Staunton noted that last month Aer Lingus pension trustees had warned staff that their retirement incomes were facing possible cuts of 20% or worse.
He said that on top of that, the company had decided to slash an agreed staff gain-sharing payment by up to 80%.
He described Mr Mueller's €1.5m package, which included significant bonuses and a 40% pension contribution, as a personal pay bonanza, which did not add up against the background of the tough measures and declining incomes imposed on staff.
On the gain sharing scheme, he noted that a previous productivity agreement provided for payments averaging around €1,000 per worker for their contribution to keeping the company in profit.
However, the airline has announced it will only pay €250 per employee, which he described as being "in stark contrast" to Mr Mueller's bonus payments.
SIPTU condemned the top-up payment to Mr Mueller, which was revealed in the annual report.
The union's Pension Policy Advisor said it was ironic that Aer Lingus has increased its pension contribution to the Chief Executive from 25% to 40% at a time when it "has continually failed to resolve the pension debacle for employees of the company".
Dermot O'Loughlin added: "It would seem to be one rule for the rich and another for the poor at Aer Lingus".
TOP STORIES

RTÉ News – News Headlines