Saturday 14 June 2014 07.16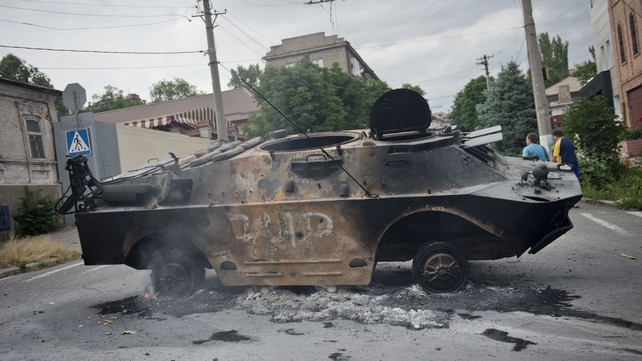 A burned armoured military vehicle belonging to the self-proclaimed 'Donetsk People's Republic' army
Forty-nine Ukrainian military personnel were killed when rebels shot down a cargo plane over the airport of the eastern city of Luhansk overnight, military spokesman Vladislav Seleznov said.
Ukraine's defence ministry earlier reported separatist rebels had shot down a military transport aircraft IL-76 carrying troops and supplies.
Yesterday,  NATO Secretary-General Anders Fogh Rasmussen said if reports that Russian tanks have entered eastern Ukraine are confirmed, it would mark a serious escalation of the crisis there.
"I am concerned about reports that pro-Russian armed gangs are acquiring heavy weapons fromRussia, including Russian tanks," Rasmussen said in a statement.
"We have seen reports that Russian tanks and other armoured vehicles may have crossed the border into eastern Ukraine. If these reports are confirmed, this would mark a serious escalation of the crisis in eastern Ukraine," he added.
Ukraine accused Russia of allowing separatist rebels to bring three tanks and other military vehicles across the border into the east of the country to fight the Ukrainian army.
TOP STORIES

RTÉ News – News Headlines