Saturday 25 January 2014 21.31
1 of 4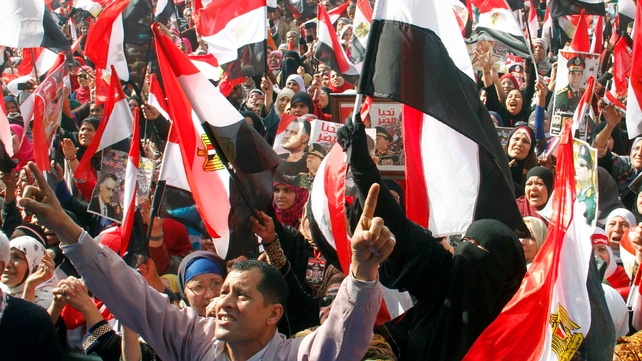 Thousand of Egyptians gathered in Tahrir to pledge their support for Sisi in an event stage-managed by the state
Security forces fired teargas and some fired automatic weapons in the air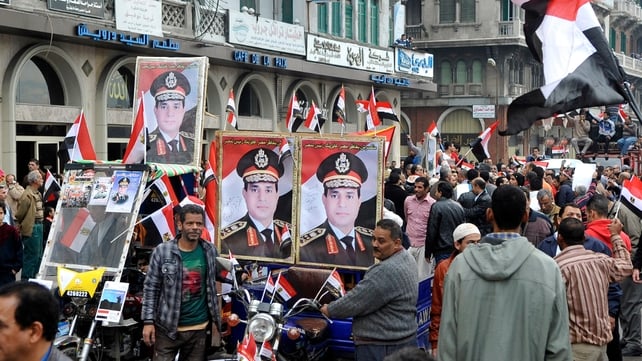 The growing violence has not dented the popularity of General Abdel Fattah al-Sisi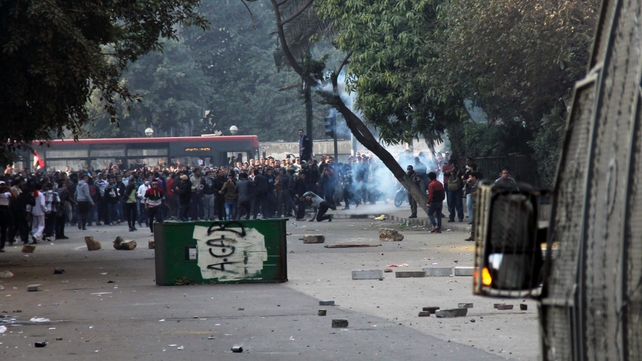 Freedom and social justice – could only be heard in protests outside Tahrir, which were quickly muzzled by security forces
29 people were killed during anti-government marches while thousands rallied in support of the army-led authorities.
Security forces fired teargas and some fired automatic weapons in the air.
The forces were trying to prevent demonstrators opposed to the government reaching Tahrir Square, the symbolic heart of the 2011 uprising.
              
As police tried to calm Cairo's politically-charged streets,a car bomb exploded near a police camp in the Egyptian city of Suez, security sources said.
              
The blast, which was followed by a fierce exchange of gunfire, suggested the authorities could be locked in along-term battle with Islamist insurgents who are gaining momentum.
              
But the growing violence has not dented the popularity of General Abdel Fattah al-Sisi, whose ouster of Islamist Mohammed Mursi, Egypt's first freely-elected president, plunged the country into turmoil.
              
Instead of commemorating Mr Mubarak's overthrow, tens of thousand of Egyptians gathered in Tahrir to pledge their support for Sisi in an event stage-managed by the state.
              
An army marching band played, while vendors sold t-shirts with the general's image for five Egyptian pounds.
              
Huge banners and posters displayed Sisi in his trademark dark sunglasses at today's rally. Some women kissed posters.
The core demands of the 2011 revolt – freedom and social justice – could only be heard in protests outside Tahrir, which were quickly muzzled by security forces.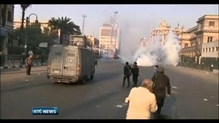 RELATED AUDIO & VIDEO
The Sisi mania underscored the prevailing desire for a decisive military man Egyptians can count on to stabilise Egypt.
              
But an end to street violence seemed nowhere in sight. 
Not far from Tahrir, police in black uniforms clutching assault rifles fired tear gas canisters in a clampdown on anti-government protesters lasting for about two hours.
Nine protesters were killed in different parts of the capital, where armoured personnel carriers were deployed to try and keep order, and anyone entering Tahrir had to pass through metal detectors.
              
In the southern town of Minya, two people were killed in clashes between Mursi supporters and security forces, said Brigadier General Hisham Nasr, director of criminal investigations in the regional police department.
A woman was killed in Egypt's second city of Alexandria during clashes between supporters of Mr Mursi and security forces.
Most of those killed were shot, security sources said.
              
The pressure prompted one alliance of liberals to call on their members to withdraw from the streets.
              
But others gathered in central Cairo after nightfall to call for an end to the army-backed government. "Down with military rule," they chanted.
              
Mr Sisi toppled Mr Mursi of the Muslim Brotherhood in July after mass protests against what critics called his mismanagement and increasingly arbitrary rule, triggering a confrontation with the veteran Islamist movement that has hit investment hard.
As violence marks the anniversary of the 2011 uprising that toppled President Hosni Mubarak, RTÉ News looks back over three years of political turmoil and civil unrest in Egypt.
TOP STORIES

RTÉ News – News Headlines