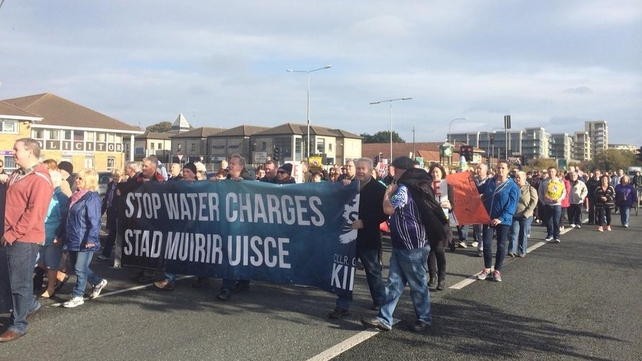 More than 20 protests are taking place in Dublin, including in Tallaght this morning (Pic: Lisa Jewell)
Protest organisers are predicting that 100,000 people will take part in demonstrations against water charges around Ireland today.
Around 90 protests are taking place in towns and cities across the country, with more than 20 planned in Dublin.
In Cork city, the protest is due to get under way on the Grand Parade at 2pm.
There will be protest marches in Bandon, Clonakilty, Youghal, Fermoy and Mallow.
Traffic restrictions will be in place for the affected areas.
The rallies come ahead of a Government decision outlining how the charges will be implemented, which is expected in the coming weeks.
Socialist Party TD Ruth Coppinger said the Government "is on the ropes over water charges".
She said: "If the demonstrations don't convince them to ditch it, a mass boycott of the bills is inevitable in January."
Tánaiste Joan Burton said yesterday the water charges will be modest and capped.
The Labour leader also said the Government is examining a "fair price" for consumers.
Irish Water is due to issue its first bills at the end of January following a decision by the Commission for Energy Regulation to extend the validation campaign until the end of this month.

RTÉ News – News Headlines